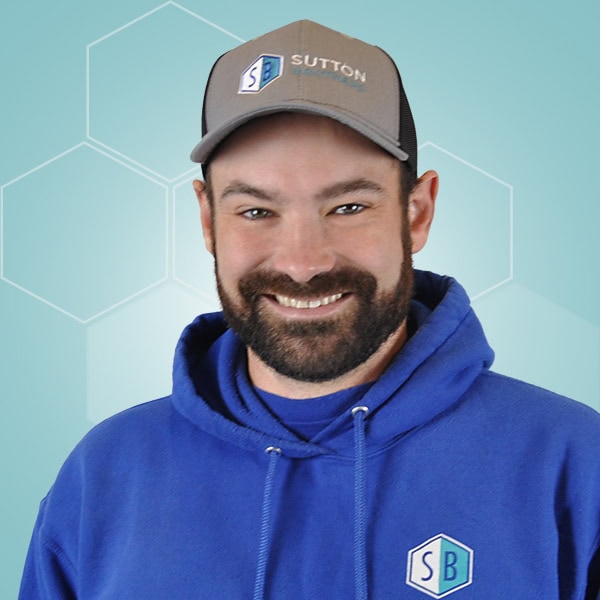 Zack F
Plumbing Installer
Plumbing Repair in Stokesdale, NC 27357
"Zach was fast and showed me what he was going to do. Also he answered my questions about our toilet and water quality. I highly recommend him for any plumbing repair in your house."
- Stephen M.
Plumbing Replacement in Mocksville, NC 27028
"They were extremely great. Couldn't ask for a better crew. Fast, efficient, and work so well in all the craziness going on today. We will continue to use Sutton Brothers for as long as we live in the area."
- Kasey C.
Water Heater Replacement in Stokesdale, NC 27357
"Zach arrived and provided efficient courteous professional service. All requested work was completed in a timely manner. Appreciate the service the office provided to facilitate the project. Will use Sutton Brothers on my next project."
- Chuck L.
Plumbing Installation in Kernersville, NC 27284
"Zach was my service technician today. He was very professional and explained my post before he even turned a wrench. There was a tiny issue from your dispatcher Jason who missed quoted some pricing but Zach got it straightened out for the most part."
- Thomas C.
Water Heater Replacement in Greensboro, NC 27214
"When I called for an appointment I was scheduled within a reasonable amount of time. Antonio came to give an estimate. He was kind & thorough in explaining everything. Zack & Clay replaced our water heater with a new one & also replaced a cartridge in a faucet . They were prompt and competent in completing the tasks as planned. I would hire them again."
- Sylvia W.
Plumbing Installation in Colfax, NC 27235
"Dear SUTTON BROTHERS, your team member: Mr. Zack Felts has provided our family an excellent service! Mr. Zack was prompt as scheduled and his technical expertise in explaining from start to completing all his overall work satisfaction is a five (5) star rating. His mannerism does make a customer very pleased to receive him to start work!
- Ronald T.
Plumbing Repair in Greensboro, NC 27406
"Analysis performed for plumbing repair on Sunday Aug. 21, 2022 by Zach Felts and camera work analysis by Anthony Kusztyb on Monday Aug. 22nd. Both gentlemen were very personable and knowledgeable concerning their craft. Very meticulous with their details concerning the issues with my plumbing. Answered all my concerns and gave me options within my budget to chose from if I was interested and I was! 😊 I have had several other projects performed by Sutton Brothers and were very happy with my outcome and I trust them implicitly."
- Millie B.
Plumbing Repair in Mebane, NC 27302
"Zach is a quality guy. Did a great job. Thank you!"
- Jason P.
Plumbing Repair in Greensboro, NC 27455
"Technician did a great job! We had several small plumbing issues. I was impressed that he showed me the parts needed on Amazon to help with cost. Friendly service with a smile! Great job!"
- David S.
Plumbing Repair in Kernersville, NC 27284
"As a company, Sutton Brothers has exceeded our expectations. Calls are answered and appointments are booked in a timely and professional manner. Zach has been the plumber we have worked with and he is exceptional in every way. My husband and I trust him and follow his recommendations without hesitation."
- Deborah T.
Plumbing Repair in Elon, NC 27244
"Zach did a wonderful job repairing or 2nd floor shower drain that was leaking into ceiling below. He was open and honest about the process and did a quality job!"
- Cody C.
Gas Furnace Repair in Kernersville, NC 27284
"I've gone through a few HVAC companies in the past but Sutton Brothers stands heads and shoulders above the rest. They've earned my trust and a partnership with me. They are simply genuine, experienced and trustworthy."
- John S.
Plumbing Repair in Burlington, NC 27215
"Great on time great service thanks"
- William P.
Plumbing Repair in Greensboro, NC 27408
"We could not be happier with the service we received from Zach today! We have been in our new house for 3 weeks and were really worried to find a huge leak in the basement. Zach was out within 2 hours of our call, gave us a very fair estimate, and completed the job right then! Even when additional issues presented themselves after what we hoped would be the resolution, he dug in and figured out the problem, making sure it was completely resolved before he left. We should've called sooner, and next time we won't hesitate! Thanks Zach and Sutton Brothers!"
- Elizabeth S.
Plumbing Repair in Lexington, NC 27292
"I had an emergency plumbing situation on a Saturday morning and Sutton Bros came to the rescue. The technician they sent, Zack F., was a God send! He was kind, mannerly, knowledgeable, and thorough. His easy-going, humorous nature put my mind at ease. I had never used them before but certainly will again in the future."
- Joni R.
Gas Range Installation in Kernersville, NC 27284
"Zach has been to our home several times to install some kitchen items. Today he installed a new gas range and as usual he did a fantastic job. Can't say enough about his punctuality, workmanship and professionalism. We are so impressed that we will use Sutton Brothers for all our future business. Thank you Zach and the entire Sutton Brothers team"
- Bob T.
Plumbing Replacement in Jamestown, NC 27282
"Zach was on time, very careful of my home and answered questions that I had."
- Sylvia C.
Plumbing Installation in Greensboro, NC 27410
"Both the office and field staff were very courteous and professional. Above all, I appreciate how patient Sutton Bros. was with my project. It took months for me to receive the needed parts to complete my job. Staff was very understanding and not once did I feel rushed. Instead, everyone was very helpful and flexible to meet my needs. I would strongly recommend Sutton and plan to use them for any upcoming projects."
- Mynyawn L.
Plumbing Repair in Jamestown, NC 27282
"Zach was so professional. He explained everything to me that was need for my repair. I asked him questions and he explained in detail why I needed a shut off valve. Outstanding work. Thank you Zach."
- CherylLynn L.
Plumbing Repair in Kernersville, NC 27284
"Very polite & diligent, Zach was extremely helpful!"
- Beth E.
Plumbing Repair in High Point, NC 27260
"Zach was super nice and knowledgeable! He figured out the problem quickly and was able to fix it that same day. The price was reasonable and the work he did was great."
- Kayleigh C.
Plumbing Repair in Lewisville, NC 27023
"Worked with what we had initially instead of replacing. Got it all working great"
- Jin R.
Water Heater Repair in Greensboro, NC 27410
"Zach was amazing! He was extremely professional and had a great attitude. I highly recommend his service!"
- Ken S.