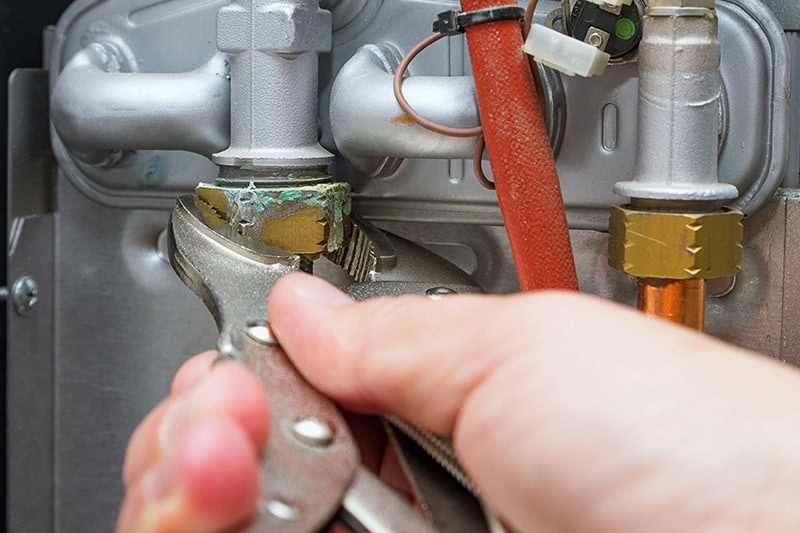 If you have an older furnace in your Winston-Salem home, the reality is, it's not going to be as safe as a newer furnace. Older furnaces can be lower on the safety scale for several reasons, so it helps to know what you can do to stay safe and comfortable.
When it comes to an older furnace, our Sutton Brothers team recommends the same type of care and maintenance as with a newer furnace—the biggest difference lies in the required vigilance you take. Just like an older car, you need to increase your attention level to keep things working safely and reliably.
For any specific questions relating to your furnace or proper maintenance of your heating and cooling system, contact our experienced furnace experts. Our team here in Winston-Salem is dedicated to providing you with answers. We want you to have a safe, properly functioning furnace, especially now with these colder months approaching here in North Carolina!
Possible Dangers of Older Furnaces
An older furnace is not only less energy efficientbut could be a safety hazard as well. Some major concerns with older furnaces include increased chance of fire, carbon monoxide poisoning, and natural gas leaks—all because your furnace is nearing the end of its service life.
As a furnace begins to age, the likelihood of it needing repairs increases. Most furnaces are designed to last between 10 and 15 years, meaning you should closely monitor your energy costs and repair bills starting at the 10-year mark to see when it makes more financial sense to invest in a replacement.
5 Key Furnace Safety Tips
Any furnace can be a safety issue if you're not careful, but the odds increase as it gets older and near the end of its useful service life. Some tips to promote furnace safety are:
1. Clean or replace your air filter every month or so. It's essential to clean your washable air filter, or replace it if you use disposable filters instead. We recommend a monthly cleaning or replacing routine—wait no longer than three months for best results.
If you don't properly clean or replace your filter, it accumulates dust and debris, which will disperse into the air you breathe, negatively affecting your indoor air quality (IAQ). In addition to this, airflow could be reduced due to the buildup of particles.
2. Check to be sure your carbon monoxide (CO) detector works. Older furnaces tend to have more issues with carbon monoxide leaks as parts begin to wear down and break. Installing a carbon monoxide detector in your Winston-Salem home is a great way to keep you and your loved ones safe.
Always check to ensure your detector is operating correctly since carbon monoxide leaks are more prevalent during colder months, according to the US Consumer Product Safety Commission (CPSC).

3. Clear out the surrounding area of your furnace. It may sound obvious, but you should keep household items at a safe distance from your furnace—no matter how old (or new) your furnace is. We recommend a safe clearance of at least three feet.
The more furniture, rugs, or decor you keep close to your furnace, the greater the fire hazard. Do not leave anything flammable close to your furnace and be conscious about which items you choose to keep nearby.
4. Be sure to have regular maintenance performed. You depend on your furnace to keep you warm when colder weather arrives. That's why you should be sure to have routine maintenance performed on your heating, ventilation, and air conditioning (HVAC) system so you can prevent problems before they start or at least have them corrected before they progress any further.
5. Monitor the color of your pilot light. Older gas furnaces utilize a pilot light fueled by gas. Methane is the gas's main chemical compound, which burns blue. If you notice the flame burning orange, yellow, or green, it means something else is burning with the gas.
This could give off a toxic chemical dangerous to you—yellow can indicate a carbon monoxide leak. In any of these events, turn off your furnace immediately and contact our Sutton Brothers team.
Choose Sutton Brothers for Furnace Upgrades, Installation, Repairs, and Maintenance
No matter what your furnace needs are, Sutton Brothers in Winston-Salem, NC, is here to provide you with the highest quality of care. As a leader in the home services industry, we offer a wide array of products and strive to provide quick, efficient service for your convenience. Give us a call at 336-390-3902 or request service online today.