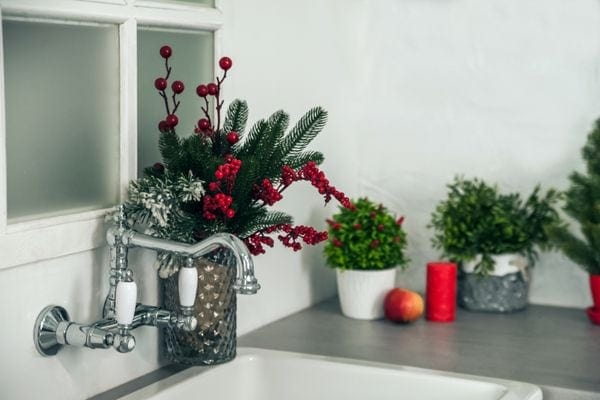 Entertaining this holiday season? Remember to make comfort a priority.
Ensuring the plumbing system in your North Carolina home operates efficiently throughout the holidays (and the entire year) is always a top priority. That includes the fixtures, faucets, pipes, and drains.
Did you know our team at Sutton Brothers also maintains, repairs, and installs plumbing? Sutton Brothers started out more than 20 years ago as an expert plumbing company before we expanded the scope of our work to include heating, ventilation, and air conditioning (HVAC) services.
Let our master plumbers inspect your water supply and drainage systems and fix any problems that might interfere with your holiday festivities in Winston-Salem. Preventative maintenance goes a long way toward preparing your plumbing for increased use during parties and family gatherings. Ask us about our Suttons Savings Club maintenance program.
Plumbing Services in Winston-Salem
Our plumbing plans include water pressure verification, leak inspection, drain cleaning, and water heater maintenance. A water heater flush and inspection can avert embarrassment and inconvenience this holiday season by ensuring hot water will flow when needed.
The last thing you need while entertaining is running out of hot water or discovering your tank has burst and flooded your basement or laundry room.
You will not regret adding plumbing maintenance to your holiday to-do list. Take steps to celebrate the season in comfort by taking these precautions:
Kitchen Plumbing
Give your garbage disposal a little TLC. Grind a few lemon peels to freshen the appliance and eliminate food odors. Always run water while grinding food waste and keep it flowing for about 15 seconds after the disposal has stopped.
Place stringy foods, grease, oil, shellfish shells, and bones in the garbage instead of the disposal. Remind guests to keep coffee pods and loose coffee grounds out of the garbage disposal.
Your dishwasher may do double and triple duty if you plan to serve dinner to a crowd over the holidays. Be sure it is up to the task.
Wash its filter in warm, soapy water to remove food particles, rinse, and return to the appliance. Pour a cup of white vinegar into a dishwasher-safe container placed inside the dishwasher. After running a hot wash cycle, allow the dishwasher's interior to air dry. Check your owner's manual for other tips.
Eliminate odors from your kitchen sink drain. Pour equal amounts of white vinegar and baking soda down the drain. Let it sit for 15 minutes before flushing it with cold water.
Use sink strainers to catch particles of food that might otherwise flow into the drain.
Bathroom Plumbing
Slow sink drain? The trap, a small, curved portion of piping found under the sink, may be clogged. Turn the water off and remove the curved pipe with a wrench. Flush out debris into a bucket and dispose of the contents. Replace and trap and turn the water on.
If several drains are slow, you may have a clog in the main drain line. Call Sutton Brothers for help. We can clear it quickly and with little disruption to your Winston-Salem home.
Make sure a plunger is available in all bathrooms. Mention to guests that toilet paper is the only flushable paper product allowed in the toilet. Other products should go into the garbage pail.
Place a hair strainer over the drain in the shower.
Do not rely on guests to jiggle the toilet handle to make the toilet stop running or repeatedly deal with a weak flush. Fix any problems before guests arrive. Our plumbers at Sutton Brothers can tackle any plumbing issue.
Upgrade Fixtures
Hosting a crowd? There is time to upgrade to WaterSense-labeled faucets and showerheads. Installing new fixtures will help you save water and money and give your bathroom a new look.
According to the U.S. Environmental Protection Agency (EPA), replacing showerheads with WaterSense models can save the average family more than 2,700 gallons of water annually. That is the amount of water needed to wash 88 laundry loads.
Celebrate Your Holidays With Good Plumbing!
Call us at Sutton Brothers to ensure the pipes, fixtures, and drains at your Winston-Salem, NC, home operate without a hitch this holiday season. Call us at 336-390-3902 or request service online.