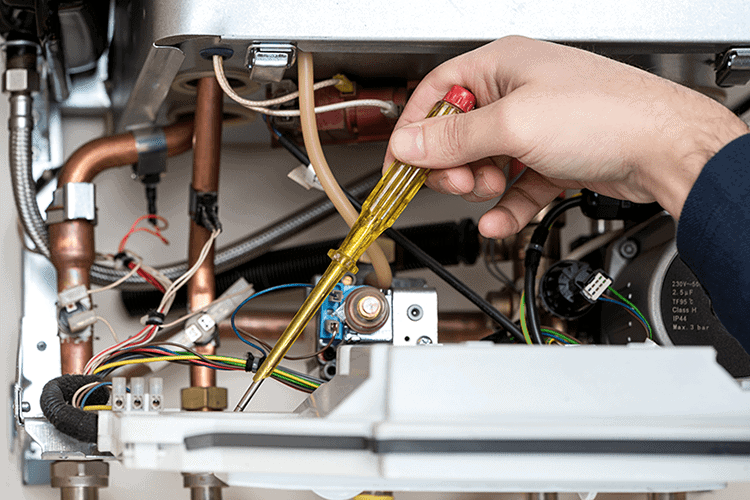 Nobody wants a problem with their furnace—but even the most efficient systems have to be replaced at some point.
Is the heating, ventilation, and air conditioning (HVAC) system in your Kernersville home malfunctioning? If so, be sure to address the issue as soon as possible—doing so can prevent further discomfort and damage.
Even when you act quickly, repairing your furnace may no longer be the best option. Your solution may be to opt for a complete replacement instead, especially if you don't want to compromise your comfort and are looking to save more money in the long run.
Sutton Brothers is here to help keep you prepared and informed. Our team of professionals will guide you and provide you with everything you need to know about your heating and cooling systems.
We can help you determine when it's time to replace the outdated furnace in your North Carolina home. Let us offer the assistance you need to feel more comfortable and confident about your system's efficiency.
Signs You Need to Replace Your Furnace
Here are several key signs that indicate it's time for a furnace replacement:
Your furnace is approaching or at the end of its life expectancy.
If you've kept up with routine professional maintenance over the years, your furnace could last its full service life of 15 to 20 years. Consider the age of your furnace—even if it turns on and off, it could be operating below par and costing you more in energy use.

Maintenance plays a vital role in the health of your HVAC system. Always be sure to schedule annual tune-ups for your heating and cooling equipment.


The system is no longer operating efficiently.
Is your heat cranked up but still not keeping you warm and comfortable inside your own home? An inefficient furnace not only fails to perform well—it can cost you more money down the road.

If your system is inefficient, you could benefit by upgrading to a newer, energy-efficient model. A more efficient furnace will use less energy to operate and provide an adequate amount of heat all throughout your home, so you'll be left feeling cozier than you ever have.

The newer furnaces that are available today are far more efficient than older models. Opt for an ENERG STAR® qualified furnace—these can be up to 15 percent more efficient than traditional furnaces, according to ENERGY STAR.


Your heating bills are more expensive than they once were.
Your furnace could be to blame for your skyrocketing heating bills or energy expenses. If the outdoor weather hasn't dropped lower than usual, the issue could be a result of your furnace not running efficiently. Upgrading to a newer model could help you enjoy the benefits of a more energy-efficient system and reduce your monthly heating costs at the same time.


You've already spent a good amount of money on several repairs.
Has your furnace already been repaired a handful of times? Be careful about how much money you're putting toward an aging system—it's not going to operate forever. On top of all the repair costs, you'll still have to purchase a new system when it breaks down completely.


You have poor air quality, and all of your efforts to improve it have failed.
Does your home suffer from poor indoor air quality (IAQ)? If you've tried adding an air purification system and scheduling an air duct cleaning service but still notice a problem with your air quality, the root cause could be your older, outdated furnace.

The older your furnace is, the more likely it is to struggle with providing the appropriate amount of moisture in the air. If you suffer from allergies or asthma, the lack of ideal air quality could leave you feeling terrible in your home. You may notice symptoms like wheezing, sneezing, or coughing. A newer furnace will encourage far better indoor air quality, so opt for the upgrade.
Speak with Our Furnace Professionals
Unsure whether it's time to replace the furnace in your Kernersville, NC, home? Speak with our Sutton Brothers experts. We will inspect your current system and recommend the most appropriate action for you to take for unsurpassed comfort and optimum efficiency. Give our team of professionals a call at 336-390-3902 or request service online.