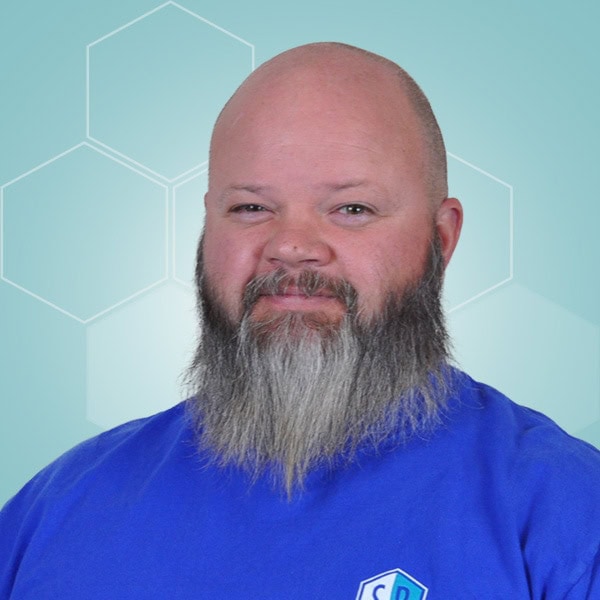 Mark N
HVAC Technician
"Woke up early Sunday morning with no heat. We experienced a brief outage the night before, and thermostat was blank and HVAC dead. Called Sutton Brothers (Sunday morning) and within a few hours Mark Nichols arrived, quickly diagnosed the problem and had me up and running. I trust Sutton Brothers."
- Harvey B.
"Mark was professional & courteous. Very knowledgeable."
- Maxie H.
"Very satisfied Mark did a good job explaining the problem and recommending a solution"
- Kent E.
"Always great service. Plenty of time taken to explain everything and answer questions."
- Mabel C.
"Technician was knowledgeable and quickly had the new motor in the AC unit.
Very pleased with the service as they come when they say they are and if a problem they text to let you know. I appreciate the communication and the good work.
Thanks!"
- Dottie E.
"Mark was very professional and courteous in every possible way. Communicated well, was on time, wore shoe cover inside our home and knew exactly what he was doing.
Scheduling the appointment was also easy with Melissa."
- Arnold R.
"Mark did a great job getting our AC back into service. We were so impressed with the service that we enrolled within the Sutton Savings Club."
- Satish S.
"Mark N. was wonderful! When the situation was a explained to him, he immediately knew the reason for the problem. He fixed the problem in a few minutes, checked that the A/C and thermostat were working properly and left. Very knowledgeable and very friendly! Thanks Mark!"
- Ken M.
"Mark was excellent. He was careful and explained as he went. Also, this was a preliminary call to see what was needed to extend the vent pipe for the microwave after it had been lowered. Would request the Mark returns to do the actual work. Need to schedule it too. Thanks."
- Robert K.
"Mark, as always, is a real pro. Knowledgeable, polite, and gets it done."
- Mike W.
"Prompt courteous service. Explained everything."
- Brenda B.
"Overall excellent experience. Your technician contacted me in a very timely manner. He was very knowledgeable, professional, thoughtful, and pleasant. I also like the follow up texts from your office to keep me aware of his arrival. And I very much liked being sent a picture of your technician, so I would recognize him when he arrived. A definite five star experience, and I will call your company in the future and recommend you to my family and friends! Thank you!"
- Trish F.
"Mark is extremely knowledgeable & a very pleasant person. Will request him for all my repairs. Thanks!"
- LISA L.
"My HVAC servicer arrived on the same day I called in for service. That alone surpasses my expectation from a HVAC service company. I would recommend Sutton Brother to anyone looking for HVAC or plumbing assistance."
- Kojo A.
"Mark was on time to perform repair and completed it timely. Good first experience."
- Scott M.
"From the initial call to the finished service repair the service was great and very friendly. Mark was super friendly, efficient and was helpful with other services offered. Couldn't of been happier. Glad I made the call to Sutton Brothers. First time client and now a lifetime client. 10/10!"
- Christine S.
"Mark showed up to replace blower motor that Brannon said was bad. Finding the old blower motor was functioning fine, Mark called me and we agreed not to install the new one."
- Bill D.
"Mark was great! Knowledgeable and thorough with his process!"
- jasmine L.
"Mark did an outstanding job and was easy to talk to. Mark is very professional and did an outstanding job in resolving the problem. I always ask for Mark for our service calls."
- Dennis F.
"Phenomenal service and very thorough as well as wonderful customer service! Highly recommend!"
- Salem M.
"Great service, excellent work, and very knowledgeable. We always appreciate the great work and courtesy. Definitely recommended!"
- Zedric M.
"Mark was exactly on time, friendly, informative on what I needed and quick to take care of it. I'll definitely use Sutton Brothers again."
- Elijah H.
"This is the first time that I have used Sutton Brothers HVAC. Mark is the technician that was assigned to perform maintenance/troubleshooting to my unit. Mark did a great job and in my opinion is an asset to and represents Sutton Brothers HVAC very well!"
- Robert H.
"Mark saved the day! Very nice man! Will request him in the future! Thank you !!!"
- Kelly I.
"Awesome! Mark did an awesome job repairing the unit with ease. Also took time to explain what the issue was and how to prevent further issues. Very helpful and professional! Affordable too honestly"
- Will F.
"Very responsive, located the issue quickly and resolved in a timely manner. Really appreciate him fixing our gas leak."
- Lindsey G.
"Mark was able to answer all my questions about programming our thermostat."
- Ann D.
"Called this morning and within an hour a service rep (Mark) arrived and did an exceptional job. I've always gotten very professional and high-caliber work. Highly recommend."
- Bobby B.
"Mark was professional, polite and knowledgeable. I appreciated him providing information, options and his analysis in an expedited fashion."
- Caroline M.
"Mark is great. Seriously. We have been very pleased with his patience and help."
- Chuck D.
"I was very pleased with the service I received from Mark. He was polite and very knowledgeable. He did not leave until he figured out what was going on with my heating system."
- Caylisa H.
"Mark was very professional and helpful! I would 10/10 recommended Sutton Brothers to anyone!"
- Jenny S.
"Mark Nichols should be commended / recognized for his outstanding work, professionalism, and integrity. I also would like to thank Jack Sutton, and the Sutton Brothers team of professionals! -The Pettigrew's"
- Top P.
"Very Professional and Honest! Which is what the world needs. Thank you!"
- Top P.
"Mark was very professional, cool, calm, and patient. Explained everything needed including my options! Thank You Mark! -Top"
- Top P.
"Mark was very courteous, polite and professional."
- Linda C.
"excellent service as well as kind and informative interaction."
- mike m.
"Mark was nice and competent. He assessed the problem quickly and made the repair."
- Diane T.
"Second time Mark has come out to my home, he's been great! Solves the issue quickly and is knowledgeable about prevention steps for next time."
- Meghan R.
"Mark came and did his work quickly. Suttom brothers offer quality work at a reasonable price."
- Brent S.
"Excellent repair and diagnostic service. Highly recommend"
- Evan G.
"Mark was on time, very thorough, and honest. He took the time to clean the entire unit. Great experience"
- Brandon G.
"Mark is a great tech! He's very knowledgeable and his customer service is impeccable."
- Annalyse C.
"Mark were friendly, professional and knowledgeable I really appreciate everything he did….Thank you"
- Sylvia B.
"Efficient, prompt service. Excellent transparency for recommended service; Mark took pictures of the duct issues and sent them to me. I highly recommend this company."
- Becky L.
"Timely and expertly serviced. Answered all of my questions clearly. A pleasure to work with!"
- Jusstin B.
"Our furnace started producing a burning smell and Sutton Brothers was quick to respond. It took two visits to correct the issue because we tried it first without replacing the motor. Both guys were professional, knowledgeable and on-time. Really liked Sutton Brothers communication, they send you text messages showing who your tech is with a picture and when they're arriving. Great company that has embraced technology."
- Michael B.