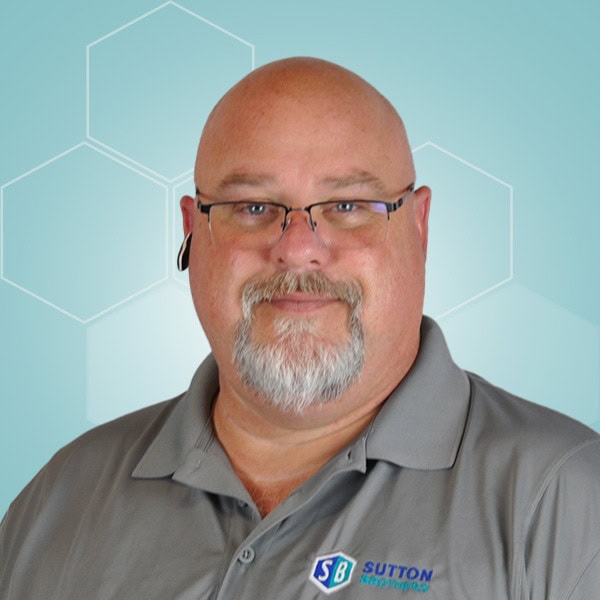 Ian B
Comfort Advisor
1 Review
Ian joined Sutton Brothers in May 2021 as a comfort specialist which means he works with homeowners to assess and recommend HVAC improvement options. He got into HVAC at the very young age of 11 as his step dad owned a heating and air conditioning business. After high school, Ian joined the Navy to pay for college and graduated with a degree in computer hardware engineering. He rejoined his step dad in his business for several years and continued his career with several other HVAC organizations either in sales or service and design. His breadth of experience and knowledge are invaluable to Sutton Brothers' customers! He will look at many aspects of the situation including house size, number of floors, key living areas, etc. before recommending options.
Ian married his high school sweetheart and they have one daughter who graduates from NC State next year. He says his spare time is focused on church, home and community. Besides being a Sunday School teacher, he sometimes preaches at his church's sunrise service. They have two rescue dogs, Fish and Sansa. Ian says they always go the rescue route because "i am a big fan of underdogs." He admits he is a tech nerd and history nerd. Friends and family call him all the time about fixing their technology issues. And in regards to history "those who are ignorant of history are doomed to repeat it."
Last but not least, Ian's a big fan of homemade ice cream and at the many events he hosts at his house for family and friends, an ice cream maker is always going. His favorite is Butterfinger but that takes a lot of work so he usually opts for Strawberry and Vanilla.
Sutton Brothers welcomes Ian to the team. He is a great asset who will bring a vast wealth of knowledge to his job as comfort specialist.
Heat Pump Replacement in Clemmons, NC 27012
"The person quoting the new system was friendly and professional. He presented the systems and options that were available in a way that was easy to understand. After getting quotes from two other companies, I chose Sutton Brothers as the best value for the systems offered. The installers arrived on the day and time promised and did an excellent job of removing my old system and putting in the new one. They were friendly, professional and answered all my questions. I would highly recommend this company."
- Steve H.